When you first buy a car, you want to fit it out with the best gadgets and accessories. There is no question of compromising on quality. You evaluate every feature, every detail, with great care.
So when it comes to buying a GPS tracker device for your car, you have to give it the same level of careful thought.
That's because:
First, a GPS tracker device can be plugged into your OBD-II port, or installed hidden by wire splicing and connecting it to your car's internal wiring (battery, ACC wire, etc). A low-quality plug-in device can interfere with your car's electronics and even drain the battery. The same holds true for a hidden device—it can interfere with the internal wiring if the installation is not done professionally. You would definitely not want to put your family at risk by installing a device that doesn't meet the highest standards of quality.
Second, for most people, the point of getting a car GPS tracker is so that they can worry less about their car. But if the device cannot give you accurate information, or interferes with your car's performance, you've just bought another thing that you need to worry about.
You need a device that meets the high standards of quality and performance that you've set for your car. And that is where the Rollr Mini delivers.
Here's how: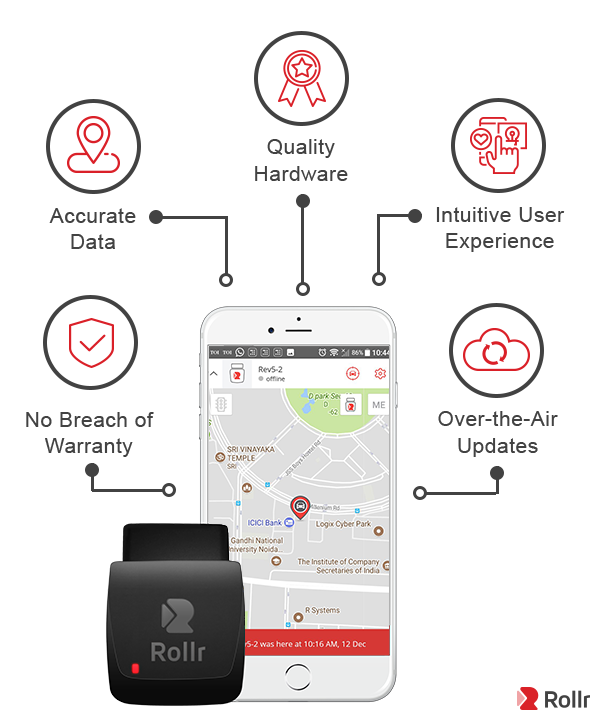 Quality Hardware
The Rollr Mini is not a handheld GPS device that's been adapted for cars. It is an auto-grade device with OEM level specifications. This means it is specifically designed to work with vehicles, and can handle the driving and environmental conditions encountered on Indian roads.
We design and manufacture our devices in-house, which allows us to keep tight control over the quality standards.
We choose the best hardware components that go into our devices. Fun fact: there are around 200+ components in the Rollr Mini—that's how complex it is!
During the design phase, we account for all possible variations in conditions and perform failure analyses, so that we can ensure the device delivers high performance even in extreme conditions
Device fabrication is done via automatic mounting, on quality certified assembly lines
Post manufacturing, all the devices go through multiple levels of quality checks
The device is also AIS-004 certified by the Automotive Research Association of India. This means it's been through independent quality checks and declared safe for your car.
And finally, the device is tested across 100+ vehicle models to ensure compatibility and zero impact on your car's performance.
Accurate and Timely Information
The one thing you expect from a car GPS tracker is accurate and timely information. As a high-quality GPS module, the Rollr Mini is accurate, with a low margin of error.
Besides accuracy, the Rollr Mini shows real-time information. With a data refresh rate between 3 to 5 seconds (in good network conditions), you know where your car is right now, and not where it was five minutes ago.
Intact Car Warranty
A lot of GPS devices require wire cutting for the installation. That's a complex process that needs a professional. More importantly, if not done properly, it may void the manufacturer warranty on the car.
The Rollr Mini simply plugs into the OBD-II port of your car, an installation that you can do yourself, and involves no wire cutting or splicing. This ensures that your car's warranty stays intact.
Intuitive User Experience
The Rollr Mini works with the Rollr app, which shows you all the complex data collected from your car in the most understandable format.
The Rollr app is designed with a dashboard that gives you a snapshot of all your important data. It's easy to navigate the app and quickly get to the information you want.
Performance Improvements Delivered Over-the-Air
Apart from the hardware, we make sure that the software that goes into the Rollr Mini undergoes the same stringent level of quality and performance checks. We pack the best of features in a small but mighty device. But that's not good enough!
Because we have engineered all the parts of the device in-house, we can make sure that the device is up-to-date with the latest features. With regular, over-the-air firmware updates rolled out every month, you are assured of the latest features and enhancements on your Rollr Mini.
So yes, if you are someone who truly values their car, Rollr Mini is indeed your best bet for a GPS tracker device.
But of course, there's more to the Rollr Mini. Explore what the Rollr Mini can do for you, beyond being a GPS tracking device for cars.