As a GPS Tracking solutions provider who builds highly efficient and innovative solutions for clients in various industries, you want to identify and integrate the right pieces that can deliver the extra edge for your business. This can help you differentiate from other service providers, simply because with the right technology stack at your disposal, your team is able to build out breakthrough solutions that your clients find tremendous value in.
You likely have some parts worked on, maybe the software, or the analytics, or the cloud aspects. So what should you be looking for, so that you build a stack that has the right features that is able to offer a solution that is formidable, as well as has the flexibility to grow into new directions as new opportunities come into play, or new protocols kick in.
Reliability: You are looking for solutions that are robust and reliable. You want a name you can trust. You want a team that's available for you to solve any problems. If the solution you deliver has many parts, you want each part of it to be reliable and working with the rest, seamlessly. These are non-negotiables, especially when lives, livelihoods, resources and money are on the line. Always choose a name you can trust.
Flexibility: The GPS tracking industry is still in its nascent stage. There are new opportunities and tremendous growth potential ahead. India is a huge, untapped market, and will throw up its own unique requirements. Are you geared up for it? Does your tech stack have enough flexibility to help you tap into these opportunities ahead? And along with flexibility, does it have agility to move quickly to get the right customizations done?
Do not get boxed in with un-interoperable systems, locked up hardware, protocols that claim openness but are actually security risks.
Scalability: How scalable is your tech stack? Can you get as many hardware units as your clients need within reasonable time frames? Can the server setup scale quickly, on demand, and still remain available?
Longevity: Your business is for the long term, so your tech stack should factor that in. If there are parts that are going to be short lived, be aware of that and how you will replace that part. The better play would be to opt for providers who are also in this for the long run, and have a roadmap in place with enough flexibility to build capabilities that the market will need in the future.
The Customizable GPS Platform
Rollr was set up because its founding team identified the huge potential of telematics and IoT a few years ago, and committed itself to building a full fledged platform to enable these. Backed by the Samvardhana Motherson group, Rollr has emerged as one of the key players with a full technology stack for GPS resellers, solution providers and system integrators. Let's explore the Rollr tech stack in detail so you can figure out which parts you can pick and choose to build your solution stack.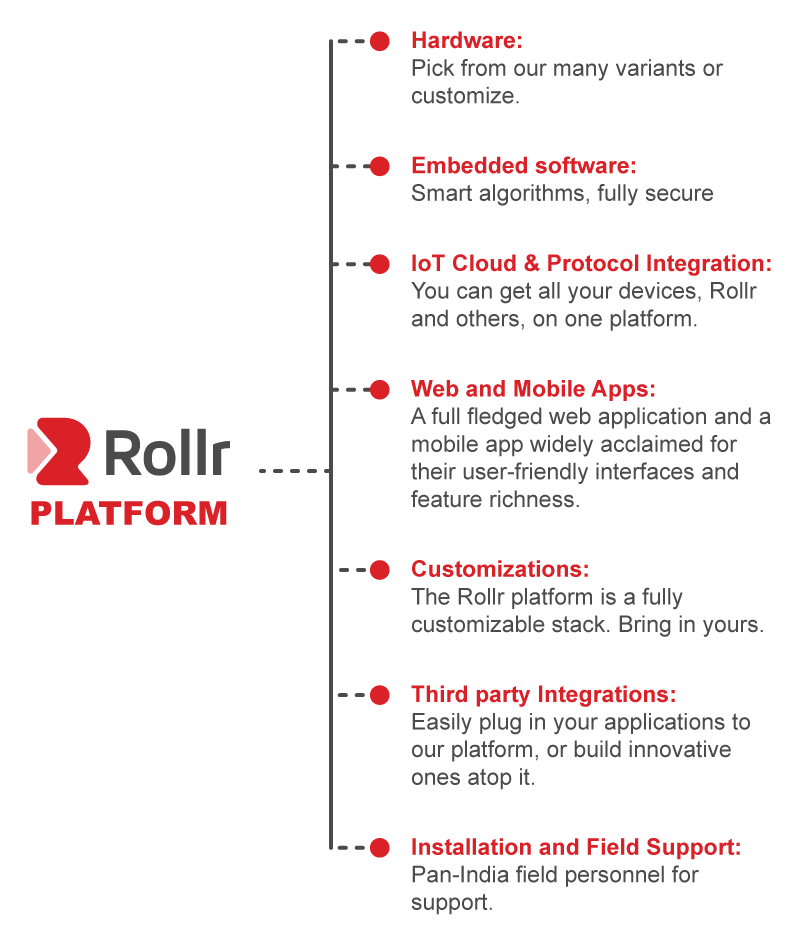 Hardware
Rollr offers a variety of hardware devices. These include:
Rollr Mini (ideal for individual vehicle owners as well as car fleet owners)

Rollr Pro (for fleet management)

Rollr AIS-140

Rollr SOS Button,

Rollr 4G Variants

Add-on

sensors (fuel, temperature, etc)
Rollr has its own hardware design team – this means any existing hardware design can be modified to suit your requirements, or new designs can be created, and then manufactured at scale.
Embedded Software
Rollr's software supports multiple bus protocols, has algorithms to register driving behaviour, and for various security alerts such as when a vehicle is being towed away, or is out of the defined geo-fence, etc. It also has support for various sensors. Most importantly it uses security and encryption algorithms, so data security is always maintained.
IoT Cloud & Protocol Integration
There are several flexible ways in which the Rollr Platform can interact with other servers and devices.  
The Rollr Cloud can communicate directly with other cloud platforms via APIs. It is also possible to access raw data from the devices.

Rollr devices can communicate directly with other cloud platforms via device protocol level integration.

The Rollr Cloud can communicate with third party GPS hardware as well so as to provide a seamless experience irrespective of hardware vendor.
Web and Mobile Apps
The Rollr tech stack also has a full fledged web application and a mobile app that are widely acclaimed for their user-friendly interfaces. The applications have many features such as
Track and Trace functions

Event notifications

Vehicle diagnostics

Reporting on driving behaviour

Data collection from sensors

Scheduling and dispatch

Analytics on routes, efficiencies, maintenance, etc.

Document storage

Vehicle maintenance
Customizations
This is a fully customizable stack. You can pick and choose the components that will enable your solution to be better and cost effective. For example, do you want an embedded or card-based SIM? Do you have a preference for 2G/3G/4G network? Do you require specific server-side configurations? Do you required any changes in the hardware specifications? Rollr devices can be configured during run time over the air. Do you want any changes in that?
Because Rollr has been founded as a full stack solution company, we have the ability to make changes at granular levels, that few solution providers can match.
Third party Integrations
The Rollr platform is enabled to integrate with some popular third party apps. So you can bring in your preferred applications to our platform easily, so your operations become seamless. You can also build innovative analytical solutions for your target industries by building atop the Rollr Platform.
Installation and Field Support
Apart from offering a deep technical telematics stack, we can also enable a large scale rollout across India by providing field personnel, support and managed services.
If you would like to test drive our tech stack, you can do that by ordering our Starter Kit. It comes with hardware units, API guides and useful information to get you quickly started on the Rollr Platform. Write to support@rollr.io to get your Starter Kit.