A connected car that gives you vehicle health and location information at your fingertips is great. However, with connectivity comes the risk of hacking and data leaks. So, you should make sure that your choice of a connected vehicle solution does not compromise on data and GPS security.
The famous Jeep hack – wherein hackers were able to immobilize the vehicle remotely (of-course this was done in a controlled environment) – gained a lot of attention. Criminals have been known to use social check-in and location data to know when your house is unattended. Similar unauthorized access to vehicle electronics or sensitive data like GPS location can have dangerous consequences. That is why people are sometimes hesitant about installing GPS trackers, or other OBD devices in their cars which can mess up your car electronics.
At Rollr we understand this, which is why maintaining data security for our users and their vehicles is our first priority. Rollr Mini, as well as other telematics devices and applications we design and manufacture, are designed to be hack-proof. Even when your data is being transmitted and stored, we have systems in place to ensure that it is never vulnerable to misuse.
Let's take a look at how your data travels across the Rollr ecosystem, and how it's protected at every step:
Data Collection
We've ensured that the Rollr Mini is hack-proof by design. Here's how: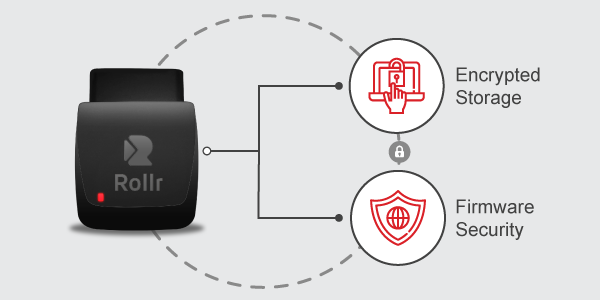 Encrypted Storage: All data collected by the Rollr Mini is stored in an encrypted format. So even if someone was to get access to the device – they will not be able to make sense of the stored data.
Firmware Security: We have over-the-air updates to ensure the latest features and bug-fixes on your device. But, this is a very controlled process that takes place over a secure environment. Once the device is shipped from our end, the only way to update the firmware of the device is via our servers.This makes sure that no malicious code can be overwritten on the device, and prevents any interference with your vehicle's functioning.
Data Transmission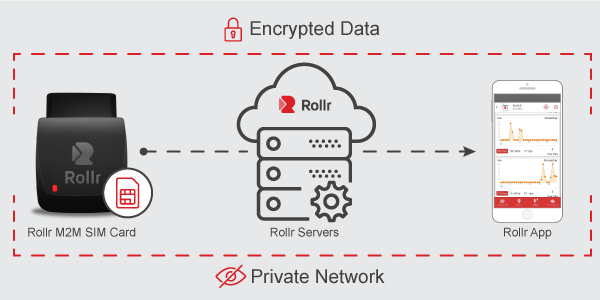 M2M SIM Card: The Rollr Mini comes with built-in connectivity, so you don't have to worry about putting your own SIM or managing payments for it. These are specialized Machine-to-Machine (M2M) SIM cards that connect only to the Rollr servers. Hence, neither the card, nor the data collected, can be misused by a third party.
Private Network: Data transmission from the Rollr Mini to our servers takes place on a secure private network, and not on a public network. So there is no possibility of unauthorised access to your data during this transmission.
Data Encryption: Even if the data is somehow accessed, once again, there will have no way to make sense of this data. As with device storage, all data transmission from Rollr Mini to the servers, and on to the Rollr app, is also encrypted.

Data Storage and Usage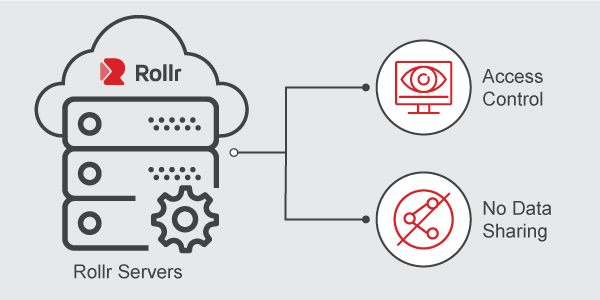 Access Control: Your data is stored on our secure Rollr servers, where access is strictly controlled. Only you, or someone you have chosen to share your vehicle's data with, can view the data collected by our servers.
No Data Sharing: We value your privacy, your data is kept confidential, and we never share our your data with a third-party. You also have the option of having your data deleted from our servers, if you stop using the Rollr Mini.
Given that the worries around data breaches across the world are growing, GPS security is one of the most critical factors while choosing a GPS tracking or OBD device. Rollr Mini makes sure your data is safe.
But that's not all. We also make it a point to give you a GPS tracker device that maintains stringent quality standards and improves your car's performance.

If you would like to know more about the Rollr Mini, fill in this form and our team will be in touch with you.