The global GPS tracking system market is very well positioned for tremendous growth, going by any study you that look at. US based market research company, Grand View Research forecasts that the CAGR for the GPS tracker market from 2016 to 2024 will be 15%! Another US research firm, Future Market Insights says that the between 2017 and 2027, the CAGR will be to the tune of 8.4%, touching USD 3,482.3 million in 2027.
India based MarketsandMarkets says that the GPS tracking device market is expected to reach USD 2.89 billion by 2023, growing at a CAGR of 12.91% between 2017 and 2023.
The numbers from these various research companies may vary, as do their periods of study. With the Indian government pumping in Rs. 6.92 trillion into road construction over the next five years through the Bharat Mala infrastructure development scheme and funding for the National Highway Authority of India (NHAI), things are going to smoothen out for businesses dependent on road transport. Businesses such as logistics will be on a growth trajectory. With the e-way bill implemented, things are further bringing in ease to transporters as they spend less and less time at inter-state check points.
So it is clear that there is high growth ahead. Businesses focused on building and/or reselling GPS tracking solutions will be the enablers of this growth and are certain to reap the benefits from it.
But why is GPS tracking system gaining significance now?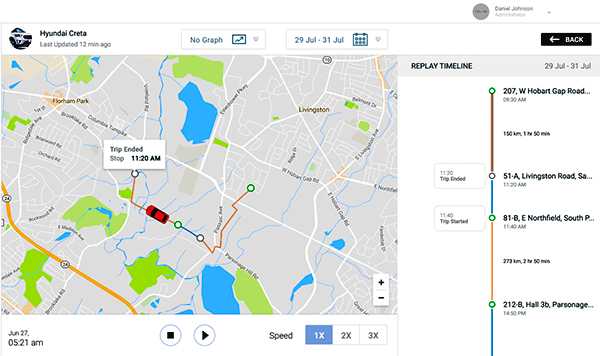 Being able to tell the location of a vehicle accurately is merely data. But pack some intelligence on it with the right solutions, and the data becomes real information that can transform a business. This can happen in various ways:
Reduced fuel costs: With information received from commercial GPS tracking solutions, companies can have more intelligent, efficient routing, thus reducing fuel costs. Over time, a few rupees saved on a trip can translate into a tidy sum.
Improved vehicle health: With many trackers giving information about the vehicle's key parameters, companies can be in better control of the upkeep of their vehicles, and not be surprised by sudden, inconvenient breakdowns. With better maintenance getting systematized, the longevity of vehicles can also be improved.
Control driver behavior: With some of the trackers giving details about a driver's performance, it becomes easy for fleet managers to institutionalize better driving practices. While this is directly related to keeping life and goods safe, it also leads to better vehicle performance as well as fewer accidents as rash or negligent driving is minimized.
Impact on insurance premiums: Fewer accidents have a direct impact on insurance premiums outgo. Most fleet managers need to keep this in check year after year.
Avoid loss of vehicles: With good GPS tracking solutions, fleet owners are always in the know of the whereabouts of their vehicles, so thefts can be avoided. Even misuse of their vehicles or even the good being transported can be curtailed to a great extent.
Paperwork reduction: GPS tracking system can help reduce the paperwork involved in dispatch and delivery of goods as they record many of the details automatically, so manual work is reduced significantly.
So we see that GPS tracking system for companies go beyond reducing operating expenses. It also saves time, reduces downtime, optimizes resources, reduces the cost of insurance, ensures route optimization, reduces the cost of maintenance, increases number of trips and increases safety of vehicles.
With a plethora of benefits accrued to a business, it makes sense to have a good GPS tracking solution in place. That's why businesses that employ fleets, large or small, are the ones that can leverage the GPS tracking technology quickly. Cab aggregators and car rentals are among the first few verticals to embrace GPS tracking solutions. Similarly logistics companies have leveraged GPS solutions, as business grows to keep pace with the exploding e-commerce growth in the country. Courier companies haven't been far behind in adopting GPS tracking as margins slim down, and bringing in more efficiencies becomes the need of the hour.
These types of companies are the first movers for GPS tracking solutions. Simply because the largest players in each vertical employ large fleets, and it makes business sense to be able to track, monitor and manage the fleets. But then the industry is made of many large, mid-size, small and mini players, often in the unorganized sector. The number of vehicles in a fleet could number from two to many thousands. There is tremendous room for growth for GPS solution providers and resellers who can cater to them.
Industries That Should Leverage GPS Tracking System
But that is not all. There are many other industries that can leverage GPS tracking solutions. GPS tracking system can be used in cars, school buses, trucks, motorcycles, fleet vehicles, autos, bicycles and commercial or company vehicles, which can be easily tracked using cell phone.  
Let's take a look at some of these.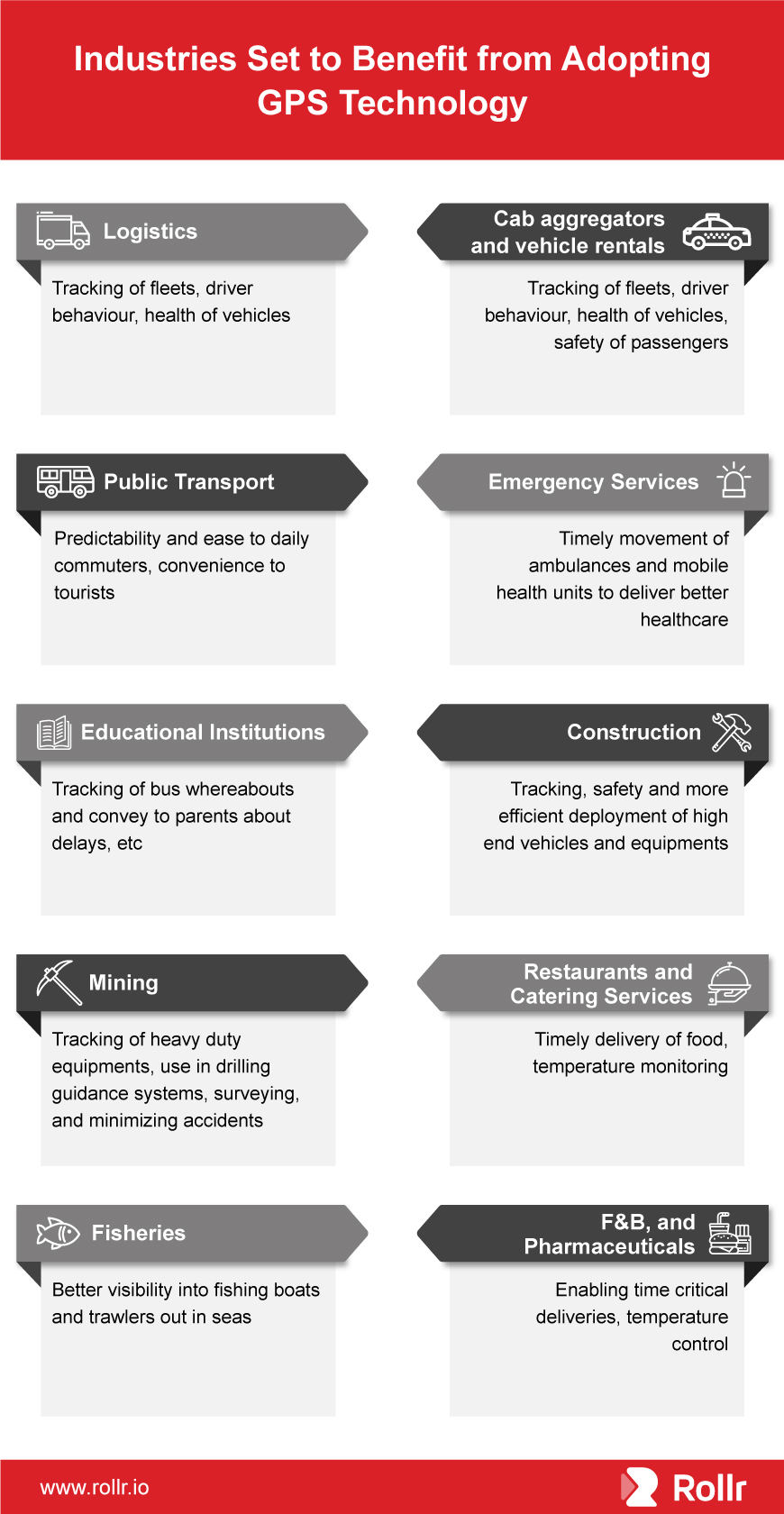 Public Transport: India plans to spend Rs 1.91 trillion on the development of 89 Smart Cities. Of this, a huge spend is allotted for bus rapid transit corridors, e-rickshaws, intelligent traffic management, fleet tracking, and more. In Bhubaneswar alone, Rs 182.6 million has been budgeted for the fleet tracking of the public and private transport buses.
According to the Ministry of Road Transport and Highways, India's national highway network is expected to cover 50,000 kilometres by 2019, with around 20,000 km of works scheduled for completion in the next couple of years.
Many cities are embarking on Metro projects. This effectively brings about better transport avenues for the citizens. But adding in GPS tracking and further intelligence to the systems, the state governments can inject considerable ease and convenience into their public transport setups. Daily commute becomes predictable, with information of next available buses and trains at the fingertips of citizens. This also boosts the tourism to the state, as travelers find it easier to explore places, rather than be at the mercy of touts and guides.
Emergency Services: Ambulance, fire and police services need GPS tracking far more than any industries. Simply because they save lives. Smarter routing in crowded cities when there is an emergency call is a must have for fleets involved in such services. With more features built into the GPS tracking solution, such services can keep track of drivers and their driving, enforce accountability and ensure KPIs are met.
According to the Journal of Emergency Medical Services, "India's healthcare industry is growing at a rapid pace and is expected to become a $280 billion industry by 2020 with a high percent of global stakeholder involvement. Improvement in healthcare infrastructure and facilities and ease of access to them is the only way India can fight against diseases. Emergency Medical Services (EMS) is an integral part of India's health and its growth is irreversible."
With emergency healthcare still a distant dream for most parts of India, ambulances and mobile health units have a large role to play in this growth. Enabling them will be GPS tracking devices so they are able to serve the population efficiently and quickly.
Educational Institutions: With rising concerns around safety of students, especially school students, parents are justified in demanding better monitoring of the transport machinery, so they are better clued in about the whereabouts of their wards. While the educational institution will no doubt benefit from various cost savings and improved efficiencies that reliable GPS tracking system can bring, they can also communicate the safety and security measures in place for their students. With added features to send alerts to parents about delays and other concerns, GPS tracking solutions can enable schools to streamline their bus movements without having to be answering frequent phone calls from parents.
Construction: The Government of India is giving a massive push to the infrastructure sector by allocating Rs 5.97 lakh crore (US$ 92.22 billion) for the sector in its 2018-19 budget. This is expected to inject fresh energy into various sectors including construction. Typically construction involves use of high end equipments of various types such as excavators, earthmovers, mixers, generators and more. Having the ability to know where eaceh of them are at any point in time can lead to their more efficient use by smart deployments to sites where they are actually needed. GPS tracking also ensures that their theft and misuse can be minimized or even avoided.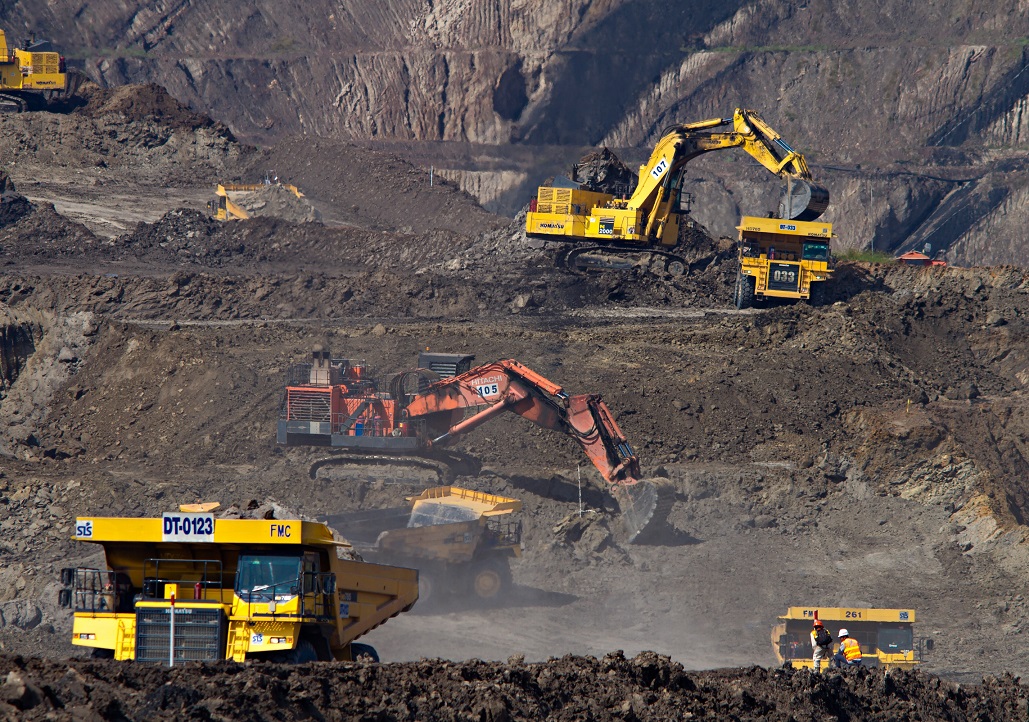 Mining: According to IBEF reports, "There is significant scope for new mining capacities in iron ore, bauxite and coal and considerable opportunities f
or future discoveries of sub-surface deposits. In 2017, the country's coal ministry allowed private companies to engage into mining activities for commercial purposes." With more private players getting into the act, a flurry of activity is expected, which will involve heavy duty equipments, trucks and other vehicles. GPS solution can track their whereabouts and keep the site managers in the know.
But beyond vehicular tracking, GPS solutions can be used in drilling guidance systems helping operators to mine pits as per the design requirements, as well as in conducting surveys in open pit mining. Also with GPS guidance in vehicles, accidents at the mining site can be minimized.
Restaurants and Catering Services: The Indian food services market is projected to grow at a CAGR of 10% over the next five years to reach Rs 5,52,000 crore by 2022. This is according to FICCI-Technopak's market report. The home delivery and catering segment is also growing as it brings ease and convenience to consumers. Enabling all this is a spate of food delivery apps, restaurant aggregator platforms and food delivery solutions.
Whatever the mode a consumer chooses to order food, it's the timely delivery of food that is critical to any good restaurant's success. That is easily achievable through GPS tracking solutions. With temperature sensors also built in to their tracking solutions, restaurants can ensure that their food is delivered at the right temperature.
Fisheries: The government of India has allocated Rs 100 billion to support its fisheries and aquaculture sector in its 2018-19 fiscal year budget. This marks a huge jump in the allocation from previous years. Clearly, there is a huge push to improve the business conditions for the sector and propel its growth. As an industry being enabled in this manner, there opens up huge opportunities for GPS tracking solutions that will enable the businesses in fisheries. With fishing boats and trawlers out in the seas, GPS tracking becomes a must-have so that business owners have full visibility on their resources and their arrival and departure times.
F&B, and Pharmaceuticals: While this are sectors that are enabled by the logistics industry, it is important to talk about them separately as they have their own unique needs and requirements. Timeliness and temperature control are critical in these sectors. For instance, a shipment carrying biological agents, if not delivered in a timely manner to the right destination can render the entire shipment useless, as the agents go past their prime. Or shipments with drugs worth a lot of money can go missing. Such instances can prove to be disastrous to a pharma business. The food and beverages sector also have similar requirements as the pharma industry.
GPS solutions with enhancements for monitoring of temperatures are a great answer to both these sectors.
Additionally, using GPS tracking system it becomes easy to track medical representatives by installing devices into his vehicles.
In Conclusion
Clearly, there are tremendous opportunities for GPS tracker system. We are yet to tap into new and innovative uses that many of these segments will soon feel the need for. GPS resellers and solution providers are well positioned to tap into the potential growth of these sectors by being able to deliver reliable, robust and intelligent solutions. The need of the hour is to be able to understand how GPS solutions can solve challenges faced by a specific industry and then build solutions that reliably deliver data accurately, in real time.
Talk to us to find out how we are helping GPS resellers deliver solutions for various industries.