With the increasing talk around developing smart cities in India, we also need to start thinking about Intelligent Transport Systems (ITS) that will revolutionise urban mobility.
The Ministry of Road Transport and Highways (MoRTH) has taken a step in the right direction by introducing the AIS-140. While the process started in 2014, primarily driven by the need to introduce safety measures in public transport, the regulation took formal shape only in may 2017. Since then, several auto-parts and device manufacturers have already started working to developing AIS-140 compliant devices, and submitted them for certification.
What is AIS-140?
The AIS-140 is the latest Automotive Industry Standard introduced by the Automotive Research Association of India (ARAI), and deals with the requisite safety features required on public transport and commercial vehicles. The MoRTH issued a directive stating that AIS-140 should be implemented on all new and existing vehicles by 1 April 2018.
Currently, the deadline is deemed as too short for all vehicles, old and new, to ensure compliance, and has been extended. But the final implementation would allow for the creation of a intelligent transport network that'll improve quality of life for citizens.
So, let's take a look at exactly what is AIS-140.
According to the AIS-140, all public transport and commercial vehicles should have the
Ability to transmit real-time location, and other vehicle performance information

One or more emergency buttons across the vehicle
Most vehicle owners can do this by installing a GPS device in their vehicles. This device has to be compliant with AIS-140, by ensuring that:
It can transmit location, velocity, and time data to the backend control servers (government authorised) using a GSM/GPRS network.

Transmit data to two different IP addresses (minimum) and an additional IP address for an emergency response system. It should have an emergency/panic button that transmits alerts to a pre-configured IP address.

The device has an internal power backup of at least four hours.

It supports a minimum hardware configuration standard, data storage and forwarding mechanism, and over-the-air updates.
Which types of vehicles have to ensure AIS-140 compliance?
All public service vehicles, whether run by the government or private entities, will have to comply with AIS-140.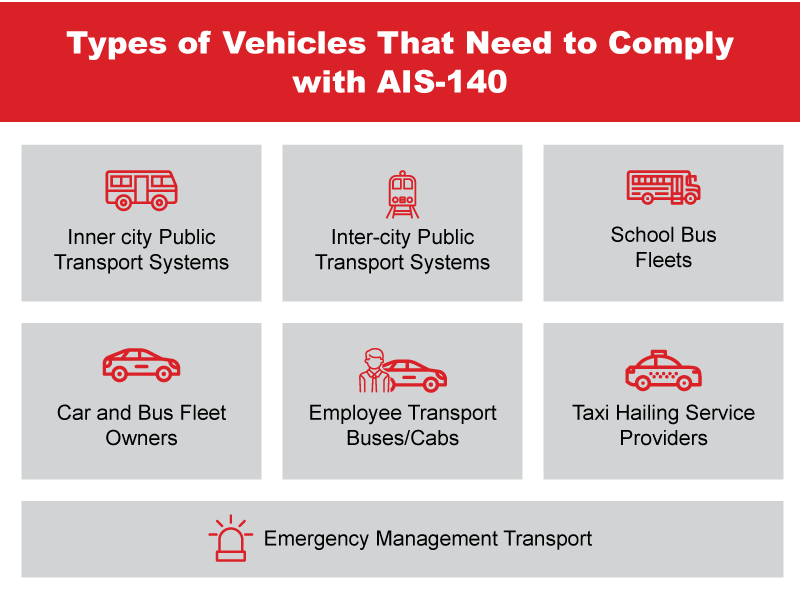 Inner city public transport systems

Inter-city public transport systems

Emergency management transport

Car and Bus Fleet Owners

Employee Transport Buses/Cabs

Taxi hailing service providers

School bus fleets
What are the benefits of AIS-140?
The primary aim of the AIS-140 is to ensure vehicle safety, and bring in a degree of intelligence into public transport systems. Once all public vehicles become compliant with this regulation, we will be able to:
Ensure passenger safety: The 2012 Nirbhaya incident was one of the prime motivating factors the government to start implementing safety measures in public transport vehicles. Both the panic button and GPS tracking features would be crucial in quickly locating criminal incidents, help law-enforcement officials to respond faster.
Optimize public transport vehicles: AIS-140 will bring in real-time location tracking and hence optimise public transport operations. Route optimisation, traffic regulation, and ensuring that vehicles run on time will be the first set of benefits. There is also the possibility of building atop these benefits, and creating services that help people stay updated on traffic movements and arrival and departure times.
Monitor driver behaviour: With AIS-140 compliant devices, it becomes possible to know if a particular vehicle, or its driver, is adhering to traffic norms. Behaviour like over speeding, engine idling, drunk or rash driving can all be tracked, and would help in curbing road accidents.
Improve vehicle performance: The regulation also includes provisions for monitoring vehicle performance metrics. Data pertaining to speed, fuel usage, engine performance, air pressure etc, is all collected, and can be shared with the driver and fleet operators. This can help ensure timely repairs and servicing, and reduce off-route time for vehicles.
Once all public and commercial transports is brought under the AIS-140, we will have a completely interconnected network of transport services. This would be the first step in the creation of a smart mobility framework, making public transport intelligent, convenient, and stress-free.
However, in order to have an AIS-140 compliant transport system, the OEM, Tier-1 suppliers, and after-market suppliers have to get their manufacturing aligned accordingly. There is a list of software, hardware and technical requirements that they have to take in account while designing the solutions for AIS-140 compliance.
At Rollr, we are well on our way to delivering AIS-140 compliant devices. If you are an OEM, fleet owner, or even a GPS reseller looking to offer AIS-140 compliant services, get in touch with our telematics experts.