The 14th edition of the Auto Expo is all set to kick off from 8 February 2018. It is Asia's largest event for the auto industry and witnesses a huge participation from both auto brands and car and bike enthusiasts. Since the last few years, it has been hosted as two separate events: the Component Expo at Pragati Maidan, and the Motor Show at the India Expo Mart, Greater Noida.
For car geeks like us, the Motor Show is the highlight of the year. Car brands like Mercedes, BMW, Hyundai, Toyota, Maruti Suzuki, Renault, Piaggio, and bike manufacturers like Yamaha, Hero, and TVS will be in attendance. Japanese brand Kawasaki and Korean auto brand Kia, will be making their Auto Expo debut this year, marked by some new launches. Most brands will be showcasing their best models as well as unveiling plans for new variants in their global line.
Here are some of the most highly anticipated launches this year:
With 24 new launches, this is one of the biggest line-up at the event in recent years. Mercedes is launching their all-terrain Maybach S650, and two other variants. BMW is launching their new M5 and M750 Li. The Honda CR-V and Honda Civic are also being unveiled, alongside Toyota's eco-friendly Vios

Electric cars are being launched by some leading market players. On display will be Renault's Zoe EV, Tata Motors' electric vehicles, and the Hyundai Ioniq

Electric car concepts will be on display, most notably the Mercedes Benz EQ, and the Maruti e-Survivor. It will be interesting to see how a luxury car brand and mid-range brand approach EVs
Interestingly, the Auto Expo 2018 is not just about the auto brands, but is also a platform to showcase technology innovations across the complete mobility and telematics ecosystem. The Motor Show has a dedicated section for a host of industry start-ups to unveil and exhibit their products.
And so, we are excited to announce that this year Rollr will be exhibiting at the Auto Expo 2018, alongside a host of other innovative brands from the industry. We will be showcasing our range of product for personal vehicles: the Rollr Mini, and Rollr Pro. Our B2B solutions: the Fleet Rollr and API-based Enterprise Integration Solutions will also be displayed.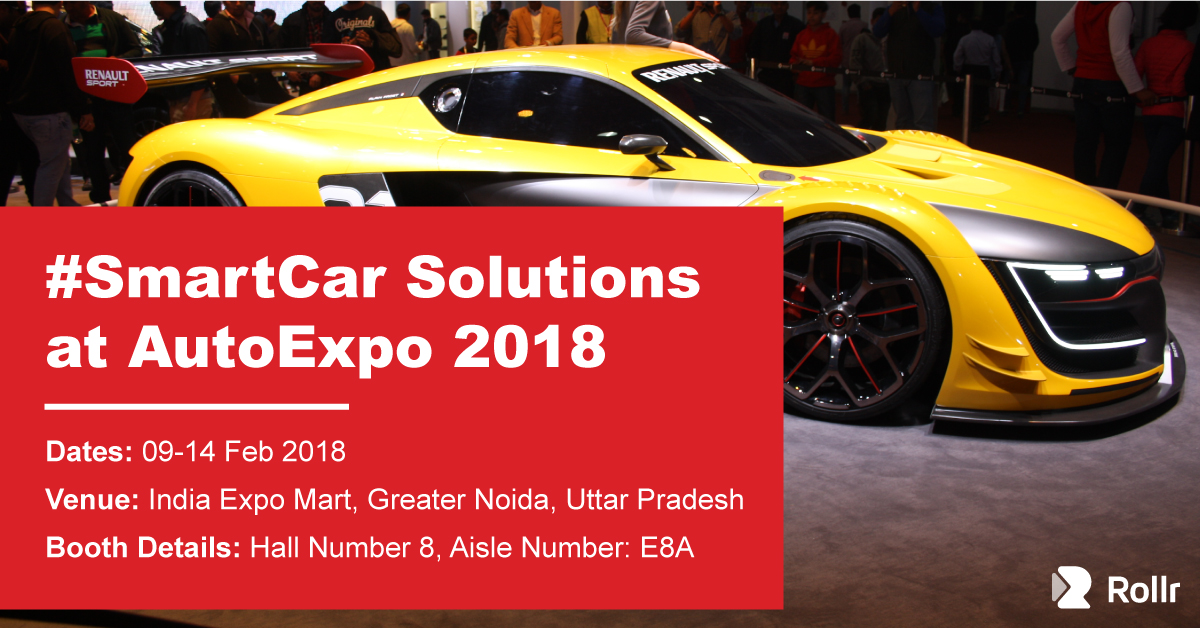 With so much to see, the Auto Expo Motor Show 2018 is not to be missed. If you are all set for the event, do drop by our booth to explore our range of smart car and enterprise telematics solutions, and choose the one that fits your needs.
We've also got our hands on a few free passes to the Auto Expo 2018. Just head on over to our Facebook page, stay tuned for our Auto Expo contest announcements, and win a ticket to this year's Motor Show.