With a final count of more than six lakh visitors over six days, the 14th edition of the biennial Auto Expo Motor Show has come to a close. The event was a one of its kind extravaganza that had to be seen to be believed. From new launches to futuristic concept cars, electric vehicles to autonomous driving tech, from gaming and experience zones to some amazing car art, the event had something for everyone.
Here's a look at some of our favourite attractions: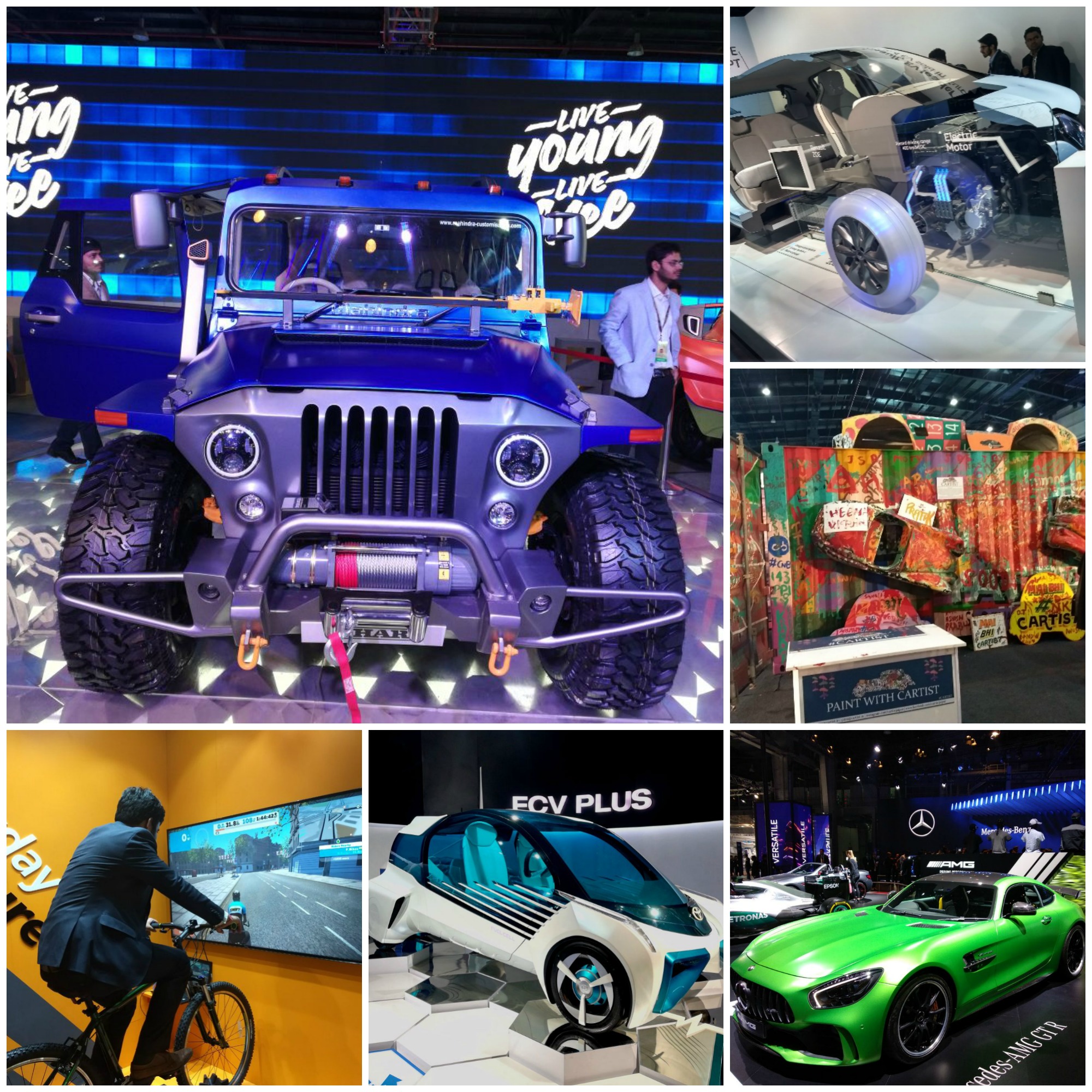 Auto Expo 2018 Highlights
All the splendour aside, the event was also a platform to facilitate a serious discourse on the future of the automobile industry in India. Some highlights that emerged:
Strong Industry Growth Predictions
Society of Indian Automobile Manufacturers (SIAM) predicts a strong 2018 for the industry. It expects passenger vehicle sales to go up by 7-9%, and commercial vehicle sales by 13%, by the end of the current fiscal year.
The Rise of EVs
There's increasing government and industry push for the Electric Vehicle (EV) wave. The government's agenda features the goal of 100% EV for public transport and 30% for personal transport, by 2030. In a statement late last year, Union Minister Nitin Gadkari emphasized on the government's resolve to curb pollution and the need for vehicle manufacturers to start researching ways to profitably mass produce EVs.
The impact of that was visible at the event, with almost all participating brands showcasing a range of EVs ready to hit the market.
For manufacturers, battery performance data is going to be a key aspect in figuring out the kind of batteries most suitable for EVs launching in India. The need for this kind of data, gathered mostly by in-car devices that can monitor performance, would be a huge opportunity for OEMs concentrating on battery management solutions.
The Focus on Smart Mobility
Industry pundits and manufacturers were all geared towards facilitating Smart Mobility in India. While a large chunk of the discussion centered around intelligent vehicles, industry insiders also pointed out the need to include pedestrian convenience and intelligent urban planning into the mix.
Mobility just doesn't mean automobile mobility, it also caters to pedestrians, so we need to come up with a complete solution & design, which caters to everyone, says Mr. Rommel Mehta, Professor, Architecture, SPA. #BTNR #AETMS18 #AutoExpo2018 pic.twitter.com/72N9VgK3SX

— SiamIndia (@siamindia) February 13, 2018
This year's event had a special focus on emerging technology solutions in the mobility space, and we were honoured to exhibit our range of telematics solutions in this niche. The Auto Expo was a chance to interact with and understand a diverse cross-section of the market that we are trying to serve.
So here we are, recounting the Auto Expo 2018 highlights for our team.
We were overwhelmed to receive the curiosity and keen interest around our flagship B2C product, the Rollr Mini, that's designed for four-wheelers. Our second B2C product, the Rollr Lite, also garnered great interest. With the expansion in the two-wheeler segment and the rising demand for telematics devices for them, we are confident that the Rollr Lite would be a well-received solution offering. We thank everyone who dropped by the booth to learn about our products; we had a great time explaining its various features and answering the questions!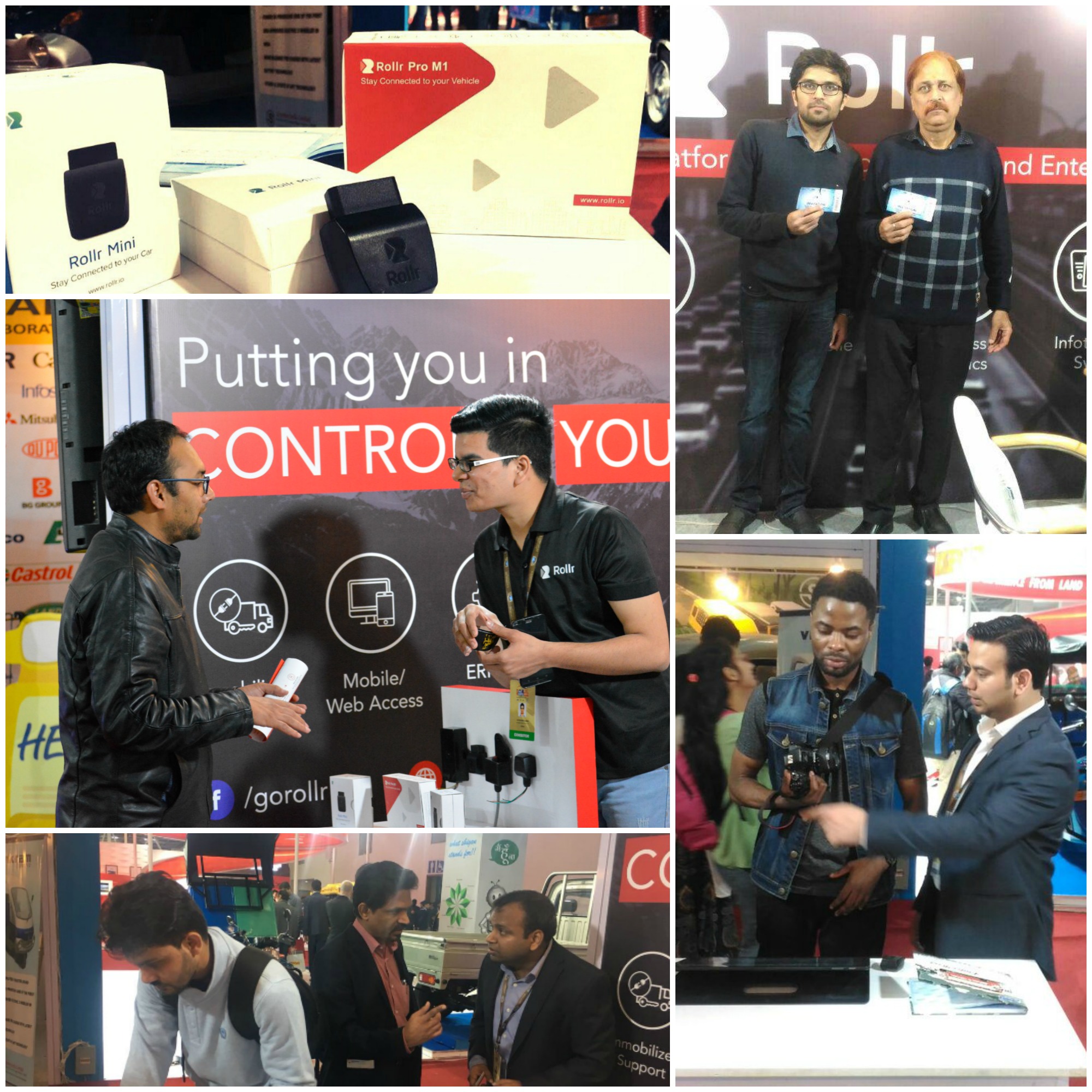 We would also like to thank our business visitors for the interest shown in our fleet management solutions. It is a point of pride for us that we have been able to solve a key pain point for enterprise fleet managers, enabling them to monitor fleet performance on mobile devices.
Our interactions with system integrators (SI) was highly rewarding, as we are now able to offer them a chance to collaborate with Indian manufacturers. Our expertise in offering both hardware and software solutions, and the ability to efficiently scale and customise our telematics solutions is being regarded as a huge advantage for the SIs.
Especially heartening were the visits from our customers who dropped by the booth to share their experiences with us. We hope that with rising awareness, more people adopt innovative telematics solutions and understand its impact on their vehicle health, safety, and the environment.
Day 2 at @AEMotorShow brought a pleasant surprise.
Venkat, a veteran user of the Rollr Mini, visited our booth to share his experience with the device. It was satisfying to know that we delivered on our promise of an intelligent driving experience for him. #RollrStories #AETMS18 pic.twitter.com/u7eG3pakEJ

— rollr.io (@rollr_io) February 10, 2018
Another day, another gratifying experience.
Santosh made a trip to the @AEMotorShow to meet the Rollr team, and get a few more Rollr Mini #OBD devices.#AutoExpo #AETMS18 pic.twitter.com/C6kWEAThpU

— rollr.io (@rollr_io) February 11, 2018
With our aim to drive the connected car revolution in India, we were thrilled to witness the rising awareness and discussion around it at the event. As the country gears up for smart cities and smart mobility, we believe that we can play a crucial role in designing the future.
Future of mobility is clean & beautiful. The era of shared mobility and connected cars is not far away, says Mr @toi_pankajD, Senior Editor, @timesofindia. #BTNR #AETMS18 #AutoExpo2018 pic.twitter.com/BzhyVcs8aR

— SiamIndia (@siamindia) February 14, 2018
The Auto Expo 2018 was an exciting journey for us. We are grateful to everyone who connected with Rollr over the course of this event, both on our social channels and at the venue.
Team Rollr